MDOT's Plans For US-131
Submitted by

whitemice

on Tue, 11/07/2023 - 05:35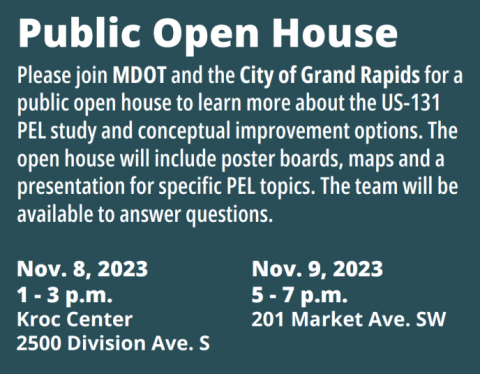 The Michigan Department of Transportation (MDOT) - or more correctly: The Michigan Department of Spending Money On Roads - would like to expand US-131. This would involve the seizure of property currently occupied by the Downtown Market, Heartside Park, and the Rapid Transit Center. For a lane of highway, through an urban area, in the year 2023, during a climate crisis, a water quality crisis, and rising economic inequality.
BTW, the 👉results of their Phase#1 engagement?👈 : 23% of respondents where 55 or older, and 85.4% where white. That's compared to an urbanized area which is only 69% white.
MDOT needs to do better; but it's too late for that.
👉TAKE THE CURRENT SURVEY👈
Watch for loaded question and artificially limited options, use the comments


Meeting Info Link: Public meeting to discuss rebuilding options for US-131 in Grand Rapids
Visualizations Link (Phase 3): US-131 Planning and Environmental Linkages (PEL) Study
Current Survey Link: US-131 Planning & Environmental Linkages Study - open until the end of the year, but don't wait.
MDOT admits in their own data that the trend line of motor vehicle traffic is flat, or declining. No surprise for a state with no population growth. So why is this necessary? [setting aside the issue of induced demand - MDOT's goal is 160,000 vehicles per day, up from the current ~130,000].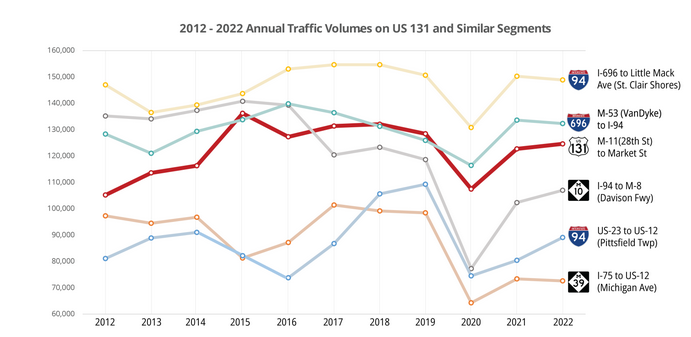 MDOT is ignoring the impacts of the highway on the surrounding community: including sound, vibration, air pollution, water pollution, and heat island effects. Will MDOT be compensating the community for the impacts of its infrastructure choices?
What about safety? Isn't this section of road "dangerous". Well, here is a map of traffic accident fatalities in the year 2021, in and around the study area: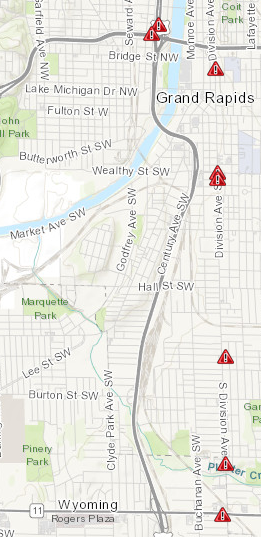 Yes, there are a lot of accidents in this section, but traffic traveling the same direction in a protected right-of-way [like a freeway] is remarkably safe. What gets damaged is cars. How much do we want to spend, and how much do we want to tear up our cities, to protect cars? Cars can be repaired, cars can be replaced.
Note: 2021 is the most recent year for which crash data is available.
BUT THERE IS SO MUCH MORE TRAFFIC!!! The region is growing, this must be true, right? Nope. Since 1996 vehicle count on this corridor has increased less than 10%. Yeah. MDOT very carefully selects a time-frame which inflates the numbers; MDOT is not an honest participant in public engagement.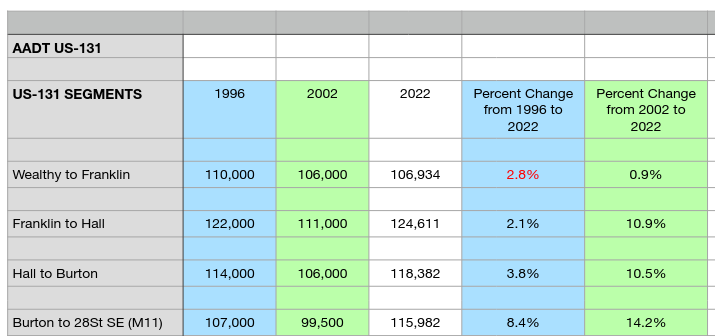 Meetings:
November 8th, 2023, 1-3pm Kroc Center (2500 Division Ave. S)
November 9th, 2023, 5-7pm, 201 Market Ave SW
Related: