The Joint PC/CC Meeting, 2023-07-13
Submitted by

whitemice

on Sun, 07/23/2023 - 08:08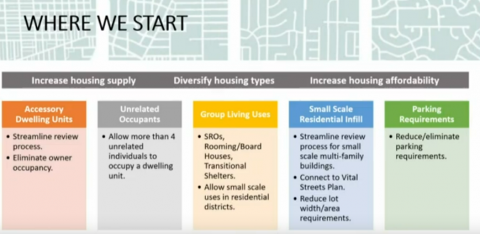 UPDATE 2023-09-19: Any proposed zoning reforms are now not expected to be heard until January, 2024. 🙄
UPDATE 2023-07-26: In comments related to the adoption of two city ordinances related to the unhoused population 2nd Ward Commissioner Knight made positive references to the zoning reforms; specifically to the number of unrelated persons allowed to live at a single address as well as more people being able to build accessory dwelling units.
---
Following the most recent Housing Needs update which illustrated how the city's policies have continued to strangle housing production - subsequent to the 2020 Housing Needs report which had illustrated how the city's policies had led to runaway inflation of housing costs - on July 13th (2023) there was a joint meeting of the city Commission and the Planning Commission to discuss some modest land use (Zoning) reforms. We might see some of these suggestions brought to the City Commission around the end of the year or early 2024.
A Reminder
The 2020 report: an 8,888 unit shortage, for the city.
The 2023 update: a 14,106 unit shortage, for the city.
There were 1,087 days between this joint meeting and the initial Housing Needs report.
Between the first report and the update the city fell 5.25 housing units further behind, every day. The city's current policies produce an increased shortage equivalent to a 157 unit apartment building every month. If zoning changes are considered at the the end of the year (December, 2023) the city will likely be 855 units further behind than when this meeting was held; rents and prices will have continued to climb.
The potential reforms discussed included:
Accessory Dwelling Units

Streamline review process
Eliminate owner occupancy requirement

Unrelated Occupants

Allow more than 4 unrelated individuals to occupy a dwelling unit.

Group Living Uses

Review of rules for SROs, Roomin/Boarding Houses, Transitional Shelters. These changes may include an increase in tenancy period.
Allow small scale uses in residential districts

Small Scan Residential Infill [aka: "Missing Middle"]

Streamline review process for small scale multi-family
Connect to Vital Streets Plan
Reduce lot width/area requirements

Parking Requirements

Reduce/eliminate parking requirements.
At conclusion it seems very likely something will be brought forward. While the discussion was interesting - it is worth listening to - the city commissioners did all fall into the expected positions:
1st Ward (O'Connor & Robbins) are supportive; they are open to going even further.
2nd Ward (Ysasi & Knight) are non-committal, with concerns.
3rd Ward (Moody & Perdue) are the most conservative. They repeatedly expressed hesitation about reducing parking requirements.
The mayor, as well as 2nd and 3rd ward commissioners, all expressed distaste for the practice of lot accumulation and combination in order to facilitate larger projects.
Commissioner O'Connor (1st Ward) repeatedly pointed to the existence of building and fire codes which already address issues of safety; that the city should allow those codes - which intentionally serve that purpose - to deal with those issues rather than attempting to add yet another layer via the city's land use codes. Attempting to insert those concerns into a land use code always has side effects.
The city's Planning Director Kristin Turkelson did an excellent job attempting to explain to mayor and city commissioners how parking requirements foul the mathematics [the geometry] of development, retard the use and expansion of alternatives to driving, as well as how the current code motivates precisely the practices the mayor and 2nd & 3rd ward commissioners find most concerning.
Now we wait to see what comes back as proposals. It will likely take awhile. As we wait the city will continue to fall further behind.
News
Related
Social Media